Biodegradable plastic special degradable material twin screw host
January 1, 2021 is the first day for the national ban on plastic straws to take effect. Biodegradable plastics are the preferred alternative to non biodegradable plastics, and biodegradable plastics have become a new export for recent market development.
China's degradable plastics are developing in sync with Koya.
In the 1990s, Nanjing participated in the field of biodegradable plastics and independently developed twin screw extruders suitable for modified degradable materials. Two sets of TE95 twin screw extruders were successfully delivered for use in Tianjin Danhai biodegradable modified materials. In the following years, well-known domestic manufacturers of degradable plastics, such as Jinhui Zhaolong, Lanshan Tunhe, Hefei Hengxin, Suqian Jintian Plastic Industry, and Haizheng Biotechnology, will participate. We have purchased multiple sets of developed degradation material twin screw hosts and highly recognized their product performance.
Recently, driven by national policies, the degradable plastic market has ushered in a new export, especially the surge in the market for starch based degradable plastic modified materials. In order to better seize market opportunities, Mr. Liu Guangzhi, Chairman of Keya, personally led the company's technical R&D personnel to seize the opportunity. Based on the third-generation HK and SK series twin screw extruder technology, he has developed and produced several special functional screw components suitable for modified granulation of degradable plastics such as PLA and PBAT, breaking through the production bottleneck of low screw speed and low production capacity driven by degradable modified materials.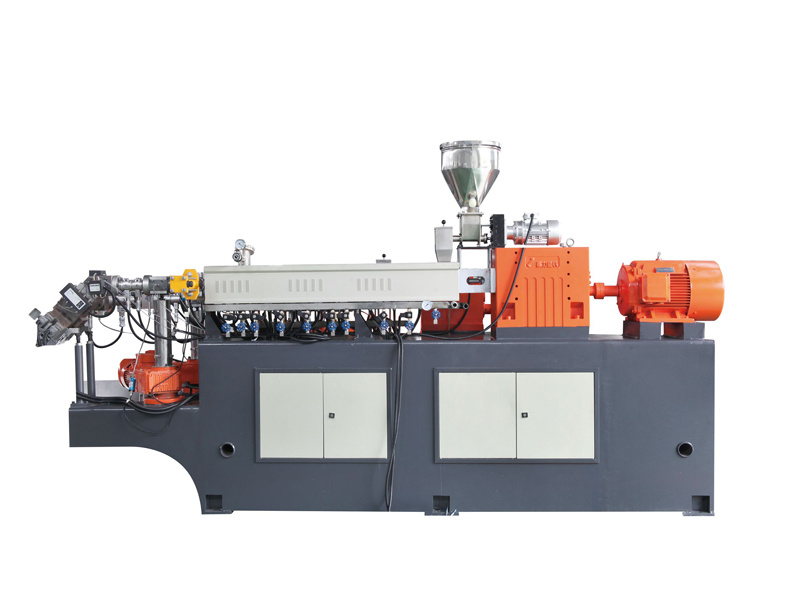 The degradation material twin screw host is known as the star of cost-effectiveness
Compared with traditional models on the market, the third-generation HK series and SK series degradation material twin screw hosts have higher production capacity and better material performance for degradation and modification materials! Through on-site testing by users, under the working conditions of the degradation material double screw host HK73 with a screw speed of 400rpm, compared with the traditional 75 machine, the production capacity is significantly increased by more than 100%, and the single machine production capacity can reach 400-500kg/h. The material has excellent performance after cooling and granulation. Due to the increase in screw speed, the material color will not turn yellow, which has been unanimously recognized by users.
In December 2020, more than 20 dedicated degradation material twin screw hosts were provided to users in just one month for the degradation of modified materials. In order to meet the demand of more users for degradation modified plastic equipment, all employees of Koya work overtime to achieve the goal of delivering user equipment on time. At the same time, Keya has developed a new cooling granulation auxiliary system with R&D technology, committed to improving the production capacity of single machine degradation modified materials.
The application of one-step modified extrusion molding process for industrial degradable plastics using twin screw hosts.
In recent years, the one-step technology of the third-generation HK and SK intelligent degradation material twin screw host has gradually improved, providing users with a complete set of degradation modified material equipment, including one-step blowing film and one-step extrusion plate, eliminating users' repeated investment in granulation and extrusion molding equipment, and reducing energy consumption waste in the secondary melting process of degradation modified materials. Vigorously promoting and applying one-step technology has reduced investment costs, created higher value for more users, and is deeply loved and trusted by users.
As a pilot enterprise in the degradation material twin screw host industry, we have long adhered to independent innovation and provided advanced technical experience to the industry, committed to providing users with high-performance and high-efficiency advanced equipment. Driven by the plastic restraining order, we have gathered the technical personnel of the enterprise and made unremitting efforts to meet the needs of users. In the future, we will continue to adhere to the spirit of exploration, innovation, and continuous progress, and make contributions to the development of the industry!